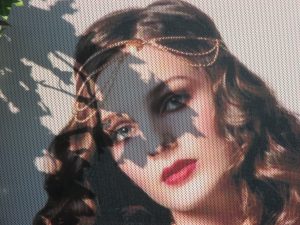 I read in one of the many how to save your marriage books, while I was still hopeful, some interesting advice. (Obviously the methodology requires two so THAT didn't work.) The coach-therapist suggested that the couple store up good feelings so that they could draw on them when it was necessary in times of stormy weather.
Coupled with my reading on discipline fatigue, I was thinking about designing a life strategy. As I did my daily five loads of laundry, hanging the purple sheet, I thought of how edgy and irritable I get when I stick to my check list, and work with a total focus on building new habits.
I kick like a four year old… "don't want to". The promise land of supportive habits is mapped out on my giant calendar check list pasted above my reading chair.
"But what happens when I am just plain tired of making myself do better, be better, push for bigger goals," I thought as I hung the golden colored bed sheet.
It was then it hit me. I have a less than peaceful relationship with myself. There is tension between me, myself and I.
Basically, she is always dissatisfied and reaching for more. I make a plan… and the vast stretch of the day with undulating hours like some ocean or desert spreads before me. I am both overwhelmed and bored..
"What I need," I advised myself, "what I need is more treasure in my treasure chest of good feelings."
Bingo, bazat. There it is. That could help my primary relationship.
Instead of only allowing myself a beggar's hoard of joyous moments, what if I went after them with intention in order to help out when I was just so done.
"But not just indulgences, "I remind myself. "You need to stick to the habit building plan.
I stood back and looked at the purple, golden, yellow and hot pink sheets waving on the line. Beautiful. So simply beautiful. I start with that image. I start now.