Nonsense. Not if you are living in a 600 square foot area and all of the tools, sink, toilet, paint, bags of dry wonder mix are all over the floor. We have only four days left and we are both dead tired.
Cameron got the pocket door framed up, put trim on the windows, panipatched the niches and exposed wall end where he built out to enclose the tub, installed the in floor heating and put thin set on it.
I did laundry, cleaned the floor, cleaned the floor, went out…guess where? Oh yeah! The hardware store.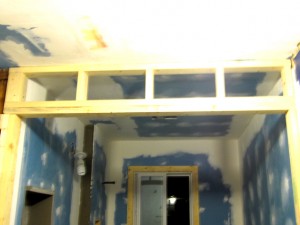 We ordered the mirror from competition glass that will also act as a backsplash and I finished the painting for the Almost Famous show at Gallery Vertigo.
I donated a piece to the Penticton Art Gallery, the Kamloops Art Gallery and will drive the piece up to Vernon for Gallery Vertigo tomorrow. Cameron has a gig at the bliss cafe so we will sand and prime before the gig, I will drive to Vernon and then join him in Peachland. After that we come home and get back to work. Only four days left before deadline on this project.
Painting for Gallery Vertigo is a rendition of a Raphael work I find very sensual.