In my notebook are snap shots. As I travel I see moments in time which are meaningful to me. La Jolla was a place of a few vignettes. As I was walking through the beautiful neighbourhood of those who somehow have managed to maintain a flow of funds, I saw a young man walking with  a cross between a fishing pole and a bow and arrow. When I asked him what it was, he explained that he went to the bay and brought home fish which he claimed were unpolluted.
On the bus ride home a family was sitting together on a seat to the right of the aisle. The dark haired two year old girl was cradled in her mom's arms in the aisle seat and the older brother sat inside next to the window. In the aisle next to the family stood a teen-aged boy with immaculate hair, brilliant white teeth and a gold wrist chain. His shirt read Alejandro and he carried on a conversation with his mother and another female relative who were seated on his left. Alejandro was upset because he didn't want to go home and then go out to eat. The oldest woman was saying that she wanted to go home first. This was met with arguments, sulking and a good deal of prodding of the mother. She refused to referee the debate. In the middle of the negotiating, the two year old girl leaned around her mother and poked Alejandro hard in the ribs. The little devil turned to me and gave me a big conspiratorial grin.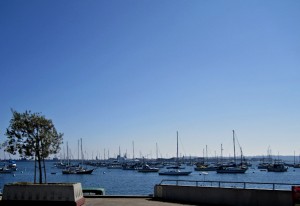 Another scene viewed from the bus window was at the corner of a major intersection. Two highway patrol cars had stopped a driver and were interrogating him when a car squirreled around the corner at high speed, turned to a 40 degree angle, skidded back and forth straightening out just enough to miss the first patrol car, slid sideways and then straightened out again to miss the second car. After less than two minutes, the highway patrol officers sauntered back to their vehicles and pursued the dangerous car that looked like it was on sheer ice and not a 90 degree asphalt surface.
On an escalator, the gray haired man ahead of me was talking to his female companion."They are investigating me. My account was frozen as a security threat while I am being investigated by the government. They took my computer."
In book store in San Diego, the magazine rack held Fashion Doll Quarterly. I found the pictures fascinating and vaguely disturbing.
I met two people on the same bus trip. One was a Ph.D in Epidemiology from London, England who has moved to the states. She was in San Diego to run a marathon. After she left, I was curious about a man with his son who was holding a bag of thick twigs. He explained that he carves canes with emblems of the Padres as special order items.
Overheard in San Francisco airport, "So then they came on the intercom again and said, ' Will the passenger who made that joke please identify yourself or we will all deplane for interrogation.'"
One is left after these middle segments of narrative waft back like perfume. There is no lead in and the denouement is left behind as I move on.
In the San Francisco hotel I asked the clerk how to get to Bart. An East Indian man who is checking out said, "You don't want to miss the day, the sunshine. Walk along the front of the hotel it leads over the bridge to Bart and you can enjoy the water." He explains carefully in great detail. I am taken by his kindness and the flowers of hair that are blooming out of each ear. When I get on the Bart, there are only four of us aboard. A woman with her lovely young daughter sit quietly together, connected and calm. Further down the car sits a young man holding a bouquet of white and red roses filled out with baby's breath. He looks happy. I notice on the back of the car a notice: Kick in plastic panel to remove.
When I was shopping at Old Navy, the clerk processing my transaction stopped, made eye contact and said, "I like your outfit. It is very cute." I felt victorious about my thrift shop prize. Even in San Francisco this heritage item was distinctive. Score.