First the crocus and now the tulips have celebrated the gentle edge of spring. Gray low skies pushed back by the sun. Cold soil pushed back by green stems. Blossoms are exuberant in the warming air.
Each year I forget the intensity that these bright tulips bring into the garden. Paint brushes of red, yellow, pink are vibrant against the blue horizon.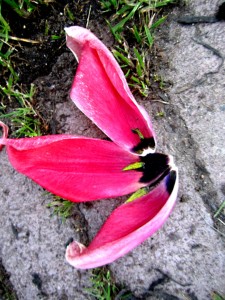 My meditation garden is hosting an array of yellow red color as these large tulips explode in the air.