Mr. Turner is a brilliant movie in that it does through the director's choices exactly what Turner did in his painting. In traditional movies, there is a steady through line. In biographies the trajectory of the primary character's life forms a structure and the audience follows the plot to the end of the movie.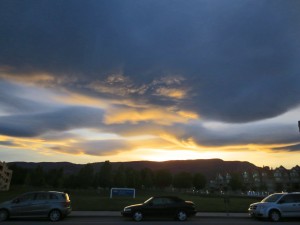 The movie that I saw tonight presented fragmented stories framed separately from one another much as if we were walking through the Royal Academy's yearly exhibition. These side scenarios are framed with importance.
Turner stands on a boat deck and a harsh faced woman refuses to interact with the man standing next to her. Her extremely broad, flat face is angry and she pulls away from him.
Turner sits sketching in a drawing room and one sister is singing. Another sister who is silly and exuberant flies into the room. They have an exchange. A deformed, unnaturally small man gets angry after a flirtatious song and storms out of the room.
In an earlier scene, the artist sings a song with a young rich, plain woman at the pianoforte. There is an exchange that is suggestive that there is more between them, a past acquaintance, a shared experience of life which the movie audience is not privy to.
We have the feeling that there is a completeness in the unfolding of that thread of others' lives that is running past Turner's as he sits and sketches or stands and observes.The use of extras to create scenarios which have begun at some point in time and intersect with the narrative of Turner's life give unique substance to what would be just background fill with another director at the helm.
In a reversal of the practice of dramatic construction, story after story is revealed in mere minutes of film. Yet Turner's story is not focused on a linear telling of either the artist's biography or an exploration of his experience of finding his artistic voice. Each additional bit of information is given in a short exchange. But there is no effort to have a flow.
Even the aspects of his life that are revealed are created as framed, expressionistic moments. His guilt about his daughter's death shows only in his reddened hands twisted behind his back in a grotesque grasping. His black coat and stooped shape blends into the black of his wife and daughter's clothing so that the visual emphasis is greater.
In one scene as he is leaving his housekeeper and sometimes sexual partner, she helps him on with his coat. The next scene is of his arrival at his seaside residence. His landlady and sexual partner is removing his coat.
So for those who are looking for the typical bio picture, you will not find it in Mr. Turner. Mike Leigh has given us much more than the running of the usual dramatic curve through the movie. He has given us a sense of the age with framed up scenes. Expect the unusual. The portrait of emotions, the sense of the man and the age is the subject but the technique is unexpected, like the depiction of a ship on the seas. It is all there but the viewer has to do some work.