Since November 6th my life has held many changes and surprises for me. So often we walk along a clearly marked path. There is a rhythm, a predictability to the days. It can become boring, comfortable, unchallenging. Sleep walking through the routine, one feels less than human.
I left Kelowna on November 6th to fly to Calgary and from there to the Netherlands. The clouds were layered over Amsterdam like puffy cartoon crop fields of whiteness. The consistent distance, size and even distribution made the vista outside the plane window appear as a cartoon depiction of a fantasy land.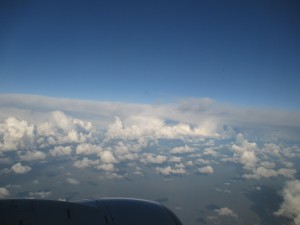 After a brief stop, I was on the plane hop to Leeds.
The journey to Leeds left me puzzled standing on a sidewalk trying to find where I could find a bus to York and discover the whereabouts of my airbnb "home". I did not understand the UK money so when I bought something, I simply put my money on the shelf of my flattened hand. I was frequently lost and disorientated. Having stumbled about York for two days, the next step was to go by train to London across recumbent open land that at times looked remarkably like Washington State except for the structures of the heritage stone buildings.
Wandering around London for two days gave way to hopping the Train to Paris. Again, I did not understand the money. And by now I was used to the feeling of being lost and disoriented. The Paris Attacks occurred on the very street where my apartment was. I saw wounded. I heard death and machine guns. I walked next to pools of blood the next day. I used all of the skill I had as a meditator to keep myself centered.
From Paris, I hopped a plane to Zagreb and then to Dubrovnik where I was again unfamiliar with currency, the lay of the land and in addition, I was surrounded by people who did not speak English. When I arrived in Dubrovnik it was the day of lighting lanterns along the streets to commemorate the victims from Vukovar and Škabrnja on 18 November…
Once I returned home, I was tired and my body allowed the entry of  a virus. Lowered resistence lead to ten days in bed, miserable nights and dizziness from an inner ear infection.
As soon as I began to feel better, I got a call to report to the hospital for my colonoscopy  with laproscopic surgery. Every five years I must drink 4 liters of what I think is one of the most foul liquids I have ever experienced, go without food and go through the cutting out of suspicious bits. It is what has prevented a recurrence and kept me alive for 18 years after a very established cancer.
I crawled home, lay in bed and thought about all of the changes, challenges, instances of loss of control, the shifting time zones, the lack of sleep that had flashed through my life in the last 47 days.
Sometimes it makes me think of a kaleidoscope. There is a clear, reflected pattern that the eye grows accustomed to. One is accustomed to the sharp definition of shape. The comforting selections of colors mirrored back at one another.
And then, you want to shake it up. You are bored and feel stuck. I set out to walk in my ancestors footsteps in York and in Dubrovnik and I learned about war and invasions. I learned about slaughter, resistance, bodies stacked blocking the gates of towns.
My family's roots were in war torn stone built fortresses. And then in Paris, I saw the modern war being waged based on ideology and religion and wounded hearts.
I watched myself rise to challenges that I had set and anticipated and also to even greater challenges I could never expect. When I returned home, I was irritated with myself for allowing myself to fall ill. I was disappointed with myself for once again becoming depressed over Christmas. I was curious about my fearful approach to the cancer screening and the surgeon told me it is PSTD. The body that has gone through a long illness with cancer reacts. She said it is basically imprinted trauma.
And I thought about the imprinted trauma of war that has passed through my DNA from York and from the Balkans.
My dreams and goals are to get beyond the programming. But, I am only human. And sometimes the explosions of too many challenges in a short period of time will just cause grief, sadness, and shutting down.
I can see that I have a long way to go before I can forgive myself for simply being human.
There is always more to learn. When I get greater distance, I will see more clearly what the lessons were over the last 47 days. It will be like stepping back and looking at a mural. Oh! I will say. That is what was being drawn for me.