When I arrived in Boulder, the journey of several days was over. I had opened up to change, to challenge and to creating a new future for myself. The journey was about releasing fear, bodily tension and watching the anxious, limiting thoughts arise.
Every time I passed a semi-truck, I talked to myself about how wide my lane was, how protect I was by universal energy. I thanked the driver for safeguarding me and being aware of the presence of my 2003 golden Nissan with the Buddha on the dash board.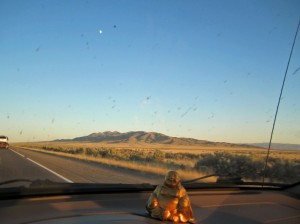 "Drop your tongue down," I would tell myself. To release the energy in my jaw, to keep my face from clamping shut in fear, the tongue drop works beautifully. "Soft hands, " I would tell myself. My hands upon the wheel would loosen and I noticed the tension in my neck and back would lessen. The car engine, the universal field were the power and it wasn't my grabbing instinct that was keeping me safe.
The tomtom got me to Naropa and from there I asked directions to Snow Lions. The mix up was amazing. I had been assigned three different room numbers over a few weeks. But I got the contract to fill out for my room and was told to come back after three.
Moving my suitcase into my room seemed rather awkward. It was full (because I am always packed for survival on the moon, after a nuclear war or stranded on an island). So I left the suitcase in my car trunk as a chest of drawers and stuffed underwear, makeup and jewelry into my back pack. Vital survival items. Oh and the four dresses and three pairs of shoes. Also very important for a Leo.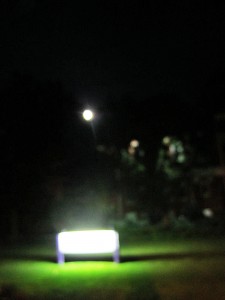 The Snow Lions was not an up to date, meticulously clean environment; however, my university friends tell me this is typical. My OCD started kicking in right away. Walking past the two large white lions at the entry way, I thought about where I could get glue to reattach one of the corners that had been knocked off. I eyed the central patio area and wondered how long it would take me to sweep the area clean. I had to quell the OCD fairey's voice.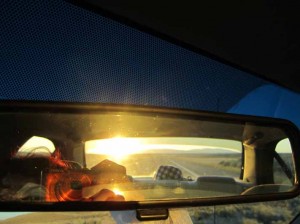 "Just do what you came here to do, " I told myself. "Let everything else go. Let it go."
I was in the dorm for two days before I figured out how to use the magnetized fob thing to get me in the door. I tried making one of the room keys work. So for the first two days, I stood outside the door and waited for someone else to open the door until I could observe how to work the gizmo on my own. What a metaphor for the last two years. Standing in front of a door and just not being able to figure out how to work it. Yes. That is it!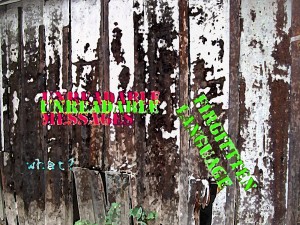 The beds were small with a thin mattress but I didn't care. The classes were inspiring. The people that surrounded me were creative spirits who had made a voyage out of their lives. Some were from small towns in Alabama, Texas, California. Some had grown up with racial discrimination with learning disabilities, with an angry household and yet each of these people had kept writing, had kept learning and had honed his or her skills. I felt as if my entire body was on fire.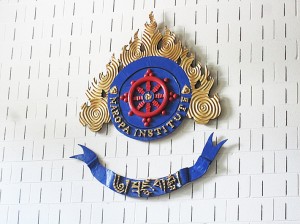 Tracie Morris was the instructor for my section and when the short, fit African-American woman walked into the room we were in for a surprise. Her power revealed itself over the week. She was unfailingly kind and sensitive to each of the students in our group. There was no attempt to establish status. Her knowledge of writing, of performing, of the academic background of all that she presented simply poured out of her as she answered our questions. Twenty minutes into class, I felt as if I were in an Alice in Wonderland experience. Tracie's stature just kept growing. At the end of the week, I captured some pictures of her and was astounded at the fact that she is fairly short. We lost that sense of her early on.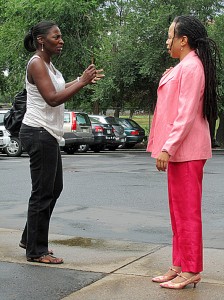 Her compassion and commitment to others is what most struck me. She genuinely wants to best for those around her. In my thirty years as a teacher, I can honestly say that I was blessed to be in a class with such a natural excellent teacher. She informed us that her meditative practice had taken much of the "edge" off of her personality. However, one knows that if it is needed she will step up and defend her beliefs with whatever it takes.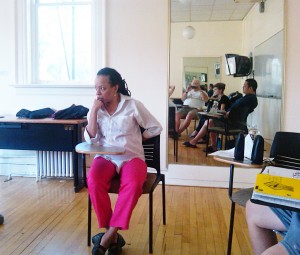 What did she teach me? She taught me that stature, status, reputation are irrelevant. She taught me that what is most important is to network with other souls on the same path as myself. Being open to working closely with others with an attitude of humility, is the quickest way to become better at the skills I have been given. Leave the ego behind and edit that sucker. Slice and dice. Go for the gut. Punch it out. But at the end of the performance, don't leave them bleeding. Offer an after dinner mint with sweetness on the lips to complete the experience.
Be there for others, Tracie showed through example. Be fully and completely in the moment. Listen to others. Take classes. This woman has many prestigious degrees and yet she is constantly taking classes. Learn. Sit at the feet of others. Be open.
She taught us about breathing so there is power behind our words. She taught us about breathing so there is a strong connection to body passion in our words. She taught us about breathing so we can hear what our bodies are experiencing.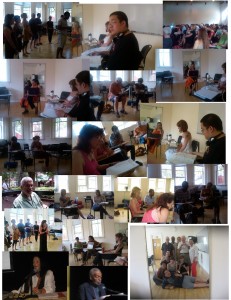 One of her exercises was to connect with an organ and talk to it. Many in my class connected with the liver: seat of anger. seat of stored grief. seat of unfair treatment. Poets…. yes it makes sense. Poets are called to speak out the grief and beauty of life. It makes sense.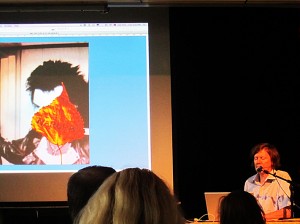 My pancreas talked to me. According to Louis Hay the Pancreas is affected when life has lost its sweetness, when one is rejected. I have been like a Victorian heroine these last two years. Trailing through mind fog trying to find my purpose, passion and power, I picture myself in wafting gowns locked in a stone fenced territory. My pancreas I envisioned as a kind of meat baby, curled in fear under my heart.
This was a very powerful exercise and surprisingly clear in the message that we all experienced. After the visualization and breathing exercise we each wrote a poem message to the organ that was "talking" to each of us. The poems were powerful, lucid.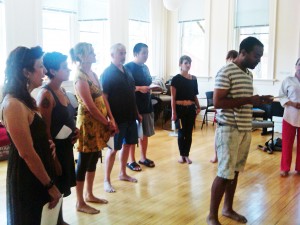 Tracie completed her lesson to us through her performance later in the week. Her rendering of "I've got you under my skin" with the voices of those sexually abused at Penn State was electrifying. She brought us to our emotional knees. I kept thinking it was more than I could take and yet it went deeper. She was merciless in her mercy.
Another influence on all of us was to spend the afternoon listening to panels or presentations by other artists. There was never a sense of the usual academic hierarchy. And I noted how incredibly effective it is to have someone stand before me who had simply made a choice to be who he or she wanted to be. To strike out into the world and make the heart's statement without waiting for validation had been a choice. Thurston Moore of Sonic Youth put together his band and ruthlessly toured the world. Find others, say what you have to say, keep moving!
Laurie Anderson was so simple, direct, unassuming in person as she stood on stage in front of us. And then she performed. It was watching a kitten become a dragon. Her power and presence was transformative. She had one number in which she described her obsessive experience with a ouija board. In her first life…. pause… she was a raccoon. In her second life…. so gentle the voice…. she was a hat. The people in my row were laughing together. We looked at one another, we bent over with laughter. It opened us up. It opened us up to saying whatever came to mind, to standing on a stage saying whatever came to mind, to one another, to the flow of energy in the audience, to and from the stage. Laurie is a catalyst. She creates magic. Period. Period.
http://www.youtube.com/watch?v=gXyisdc6ggc&list=UU1sbb545hr0EwWCwEsntUNA&index=5&feature=plcp
The other teachers each took the stage: Caroline Bergvall, Toi Derracotte, Jena Osman, Bhanu Kapil, Bobbie Louise Hawkins, Brad O'Sullivan, Claudia Rankine, Roberto Tejada, Anne Waldman and Matvei Yankelevich. It was like watching the Olympics of creatives. They each made it look so simple.

http://www.youtube.com/watch?v=PAIY_v8rzew&list=UU1sbb545hr0EwWCwEsntUNA&index=3&feature=plcp
The ability to take the gifts that the universe gave to you, find shelter in friends/networks and feed your flame was demonstrated for the students. Skill. Pushing through. Listening to your inner voice. Seeing setbacks as lessons. What better way to encourage students than to be authentic and open about your own journey?
I was filled with energy. I felt as if I had been hit by lightening, light en ing. When I read out my poetry in front of the school, teachers and other students came to me to tell me they liked my work. I sat in the audience with tears pouring down my face.
I was so grateful for the encouragement. I was so grateful to feel as if I was in the right place, with the right people doing what I was born to do. The stimulus was challenging and overwhelming but for the first time in almost three years I felt fully alive.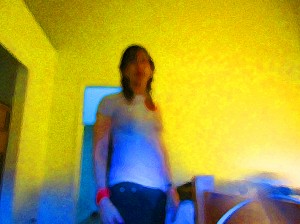 Finally, the message that Amiri Barake delivered stayed in my consciousness. Make it happen. Get out there and witness for a better world. Speak your truth. Be who you are without fear. Passion is a gift. Intensity is a gift.
http://www.youtube.com/watch?v=wIpAOGHW8T4&list=UU1sbb545hr0EwWCwEsntUNA&index=2&feature=plcp
Thank you Anne Waldman for creating and sustaining this transformative haven. Thank you fellow Naropa students for your diversity, your imaginative genius and your loving kindness. A creative center founded on compassion and keeping oneself humble is exactly what is needed as a "spark" in today's world. I was lucky enough to be a part of that for a short period. Gratitude.
http://naropaswp.blogspot.ca/p/week-4-course-descriptions.html