The joy of living in a neighbourhood for over twenty years is reinforced after a fresh snowfall. Not only are we suddenly transmitted into a movie set from the 1930's with the fluffing up, puffing up branches holding the voluptuous white but we are called to go outside and play in it.
The adult version of play is to shovel the sidewalk, brush off the car and dig out short bull dozed entry ways and exits for the car.
I step out the door and feel an excitement to be able to stand in such a beautiful place. The old trees planted in the 1950's were once all along the street but some have survived. Some stand arching over the sidewalk, framing the vanishing point of the end of the street five blocks away. It is an unadulterated exquisite moment.
I slide my yellow plastic shovel along the walk way to clear a path for the phantom visitors in my mind. Only the mail person usually comes to the house but it is almost time for my winter guests to appear in my bed and breakfast.
Being careful not to catch the shovel edge on the ridge seam in the cement, I move the new snow in one long swipe in front of three houses. And then I begin to clear what will be only this amount of time from the layers of snow. More will come. There is no sense of staying clear, being done. There is just the walking and rhythmic sweep of the shovel.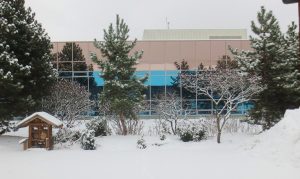 My neighbour comes out of his house and he begins to sweep off my car. We talk about the one legged crow sitting in the tree overhead that his wife keeps alive by feeding it. We talk about the widower pigeon that my neighbour has named but I can't remember what exactly. I know the pigeon by his color, shape and markings.
My neighbour talks to the pigeon and to the crow and promises them food as soon as he is done. But he is having fun. He moves down the block clearing other people's landholding sidewalks because his shovel is filling up. He leaves a mark revealing cement not twenty minutes from the time I have cleared the area.
When I go into the house, I feel good. The conversation was not begun. It began almost 20 years ago when we talked over the fence from spring to fall. It is on going, effortless.
When I next go out, I see the footprints of the pigeon spinning out from the circle of bird seed. And further down the one foot print from the crow by the pile of peanuts.
More snow is falling, and the trees are holding it close. It is Christmas.