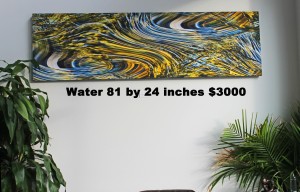 Small Pieces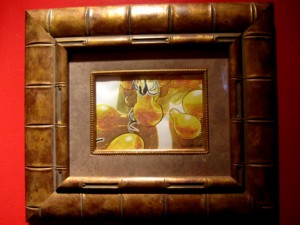 small yellow tomatoes 15 inches by 13 inches $98
Another in my small series of treated photographs which is in a spectacular, ornamental frame was of Black Eyed Susans sitting on the counter with a brilliant blue shadow of the vase shining through.
The shadow reminded me of Brian Froud's Fairey Cards when he depicted Fairey energy.
The small image was one I created from a photograph that I took of Bela Fleck and the Flecktones at the Vancouver Jazz Festival. The image of the group playing on stage is flipped on the side and made into a pyramid. It represents their music which is mystical, magical and inner city all at once.
The original photographic image was of an acid green ceramic bowl which I swirled in the software.
The work is 14 inches by 11 inches and is yours for $65.
My neighbour repairs ceramic and porcelain pieces. This little twisting nude figurine came to her for repair. She had lost an important part of her "chest" area, the figurine not my neighbour. I photographed her and used filters. Afterward, the image was printed on high end art paper.
Archival with sharp definition and bright color. One of a kind. $170.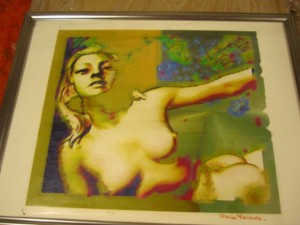 This photograph of a model was a study of light and shadow. A gesture was captured and treated in the computer. Beautiful oranges and browns in rectangular shades. Archival print.
The Mandela series was one of my earliest explorations. Of the fifteen that I created only two remain. The image was of a single rose, treated in the computer and was used as an exploration of the spiritual energy.
There were two starter images I used with this piece. One was of my smile and the other was of the beautiful, summer sunset in Kelowna. I layered the two together. The pyramid is about pleasure. Smiling, chocolate, butterscotch and warm flames against a beautiful sunset. For $65 dollars not including postage.
This image began as a photo of me laying on the kitchen counter with a pink fabric behind me. It is the first in a series I call Leaves of Grass which explores Walt Whitman's poem in images.
16 by 21 inches. $260
The Samurai Leather Armour from Medieval Japan was a find in a Portland, Oregon import shop. The Armour was so fierce just as it was stacked against the wall it was palpable. After I took the picture, I treated the image and framed it floating on a beige mat. Archival under glass $215.
Every year I look forward to the paint brush appearance of tulips whose petals open to bring the color so badly missed in winter. This upshot I call tulip trees which captures the sun defining the shapes of the petals. At 8.5 by 11.5 inches it is a great piece for an office under glass at $75.
I loved this tiny garden goddess. A garden shop had a closing out sale and I spent five years repainting her surface and placing her in different places in the garden. Her size is indicated by the chive plant in front of her. Powerful, female image in a garden setting.
This photograph is an angled shot outside Kelowna's Rotary Centre for the Arts. The filters I applied to the shot really pop it. The frame is a thick black lacquer and shows off the color beautifully. Great image to create interest in a waiting room.
Black and White

Drawings and Paintings
This pencil drawing was a gesture study of a strong, Italian face. $100 for original drawing.
I was interested in exploring one half of a face so took pictures in a mirror. This image is a statement about vision. So much of what I see is intense and hyper sensitive so my eye is purple.
This acrylic painting was a still life of a mask with a sign behind. I thought the word Manipulation too dominant. The mask was from the South Seas and seemed more appropriate to have Manipu as if it were the name of an island.
Reminiscent of South American and Middle Eastern decorative art, it has minute detail.
European Pieces
The magnificent frame on this pictures of St. Peter's Cathedral at the Vatican was valued at $600. It is an import from Italy and perfect for the image I treated in a three dimensional silver filter. By happenstance, I ended up being allowed into the Christmas Eve Mass which was conducted by the Pope and had the brilliant red robes of Cardinals from around the world.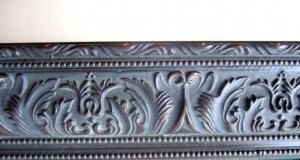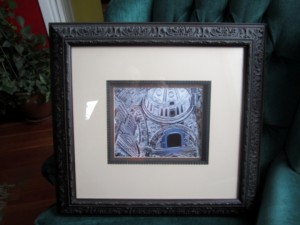 When I was at the Florence Biennale of Contemporary Art with 847 other international artists, I had my first experience of seeing cultures I had only read about previously. Only 63 artists received a jury prize and I was one. The certificate now hangs in my art studio. The following image was taken at the Pitti Palace and the giant lion's head is meant to impress and repress. The snakes that once were in the lion's jaw have long since fallen away. I painted and drew into the image to increase the three dimensionality.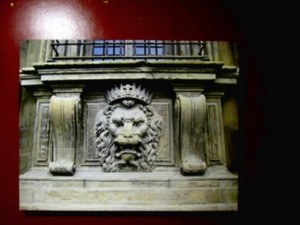 This lion door knocker looked disturbed by the aspect that someone would use him. The angled shot is to increase the sense of unease and make the humour of the image more evident.
This shimmering black door in London had highlights of blue that fascinated me. Photograph printed on canvas then worked with India Ink. People always touch it because it looks so three dimensional they are puzzled. $528
To see Gaudi's Sangria Familia is a life changing experience. The man gave up everything, friends, family, his home to work on the cathedral and ended up dying alone in a hospital after being hit by a passing vehicle in the street. He had a small cot in the church where he lived so he could work day and night on my obsessive dream.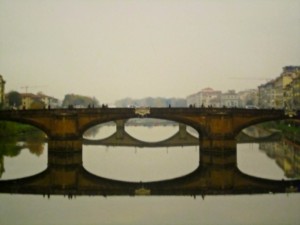 Florence Bridge 28 inches by 36 inches $700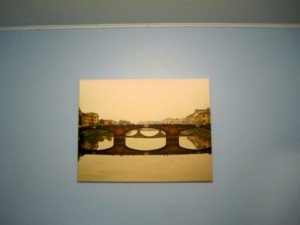 In Florence the repairs are ongoing. Ancient buildings in a moist atmosphere have to be rebuilt. This courtyard was just completed however all of the structure from the older courtyard was upgraded and kept. I call this image Old and New. The concept of renewing the past and respecting it is one I wish we would see more of in North America.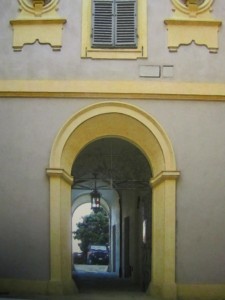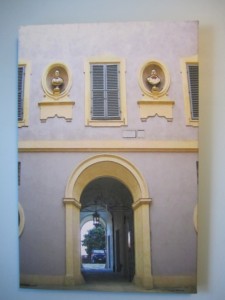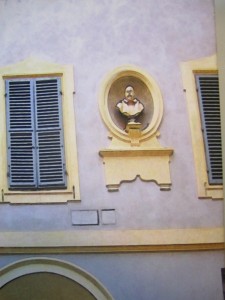 30 inches by 20 inches $480
Non Representational
Smaller Pieces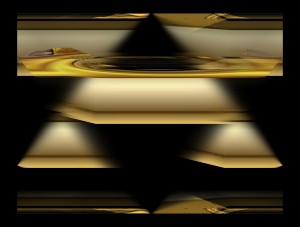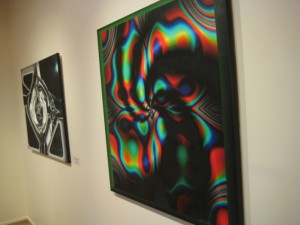 Sun captured by brick wall image is complex and woven. The image below is another image with woven filters. The colors are brilliant painted with florescent paint. Warm up a wall with this one.
The original photo for Universal Wall below was an art deco detail above a door in Disney Land. I warped, filtered and experimented until I got this vision of the energy I felt the piece held.
The Canadian Beige series won a jury prize in the Florence Biennale. Some of the pieces have sold and are happily in a new home. Two are sitting in the Water Street Coldwell Banker lobby and two more are in Wilden show home. Beautiful beige and golds warm up the walls.
Larger Pieces
This series was created to explore the elements of Feng Shui. Spirit Wind began as a picture of a flower and after manipulating it with computer filters I printed it onto a 24 inches by 59 inches stretcher frame. After that I used acrylic paints, pearlescent paint, glass bead which I bought from Austria and India Ink. The piece has shifting planes and changes throughout the day as the available light changes.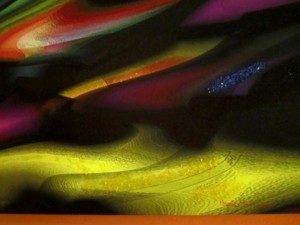 Water is a large piece that began from a photograph of the water off of Manhattan Point in the summer. After treating it in the computer and printing it out I painted into it with five colors of pearlescent paint. The surface has a shimmer and a depth which is subtle yet sculptoral. $1,600 for this original piece.
Fire began as a photograph of blue tarp spread over a pile of lumber. Manipulation of this piece took months and I drew into it with India ink brushes and florescent paint.
Earth is a piece that looks like a map. The mountains and valleys of green float on an earthen brown. The original photo was a pile of lettuce chopped up on the counter. I drew into the piece with tiny brushes to give it meticulous detail and greater three dimensionality.
Metal began as a photograph of a Peace Rose with varigated petals. Each is pink and yellow. After loading the image in the computer, I manipulated it over a period of months. Once printed out the real work began. Pearlescent and Acrylic paint, Indian Ink tiny brushes and colored pens brought the three dimensionality out. This as all of my other pieces has "different life in differing light." It changes throughout the day. $1,600. Talk to me about a "deal" price for all the Feng Shui series. Excellent in a contemporary sleek space to bring warmth and color.
My largest piece has shifting planes with the blacks and reds moving through the light. At 8 feet by 6 feet, it is perfect in a large space to create a contemporary statement. It began as a downshot at the Parkade next to the Kelowna library. The red originated as the railing, the grays were the cement stairs and shadows and light separated out into white and black.