Normal is when you feel calm and peaceful. Normal is when you feel that you own a power that comes from your very being. Normal is when you can be without ego. Normal does not mean dull. It is the opposite. Truly whole people are brilliant… giving light, doing what looks to be impossible to other people, exploring the world without fear and not really even noticing what others are doing because they don't care. It is holding both of your hands up to protect the flame of God's gift that you were given. We all have it. But some are so afraid of not being normal that they don't protect it. Some are so afraid of seeming normal they pour gasoline on it and it burns their hands, their heart and is extinguished in its own over fueled fire.
God or the universe or Buddha is about having power, creativity and love.If we move forward with these we are normal.
l.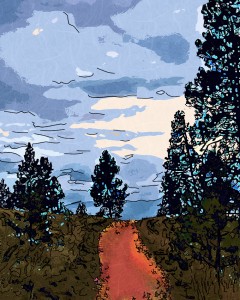 Listed below are three courses I am teaching for UBC-Okanagan Continuing Studies
.http://web.ubc.ca/okanagan/continuingstudies/welcome.html
Digital Photographic Art – From So-So…to Stunning
July 24 1 -5 pm
Discover, from an artist and photography judge, how to choose an image for the most artistic possibilities when taking pictures. Learn how to select, crop, and enhance digital images. Using simple techniques and basic software, you can give a professional polish to your photos and gain confidence in your work.
Total Cost: $110.88
Travel Writing
Monday- Friday July 26-30 9am-12 pm
Take a trip with a veteran travel writer, and discover what it takes to have your story published. Good travel writing is more than just describing where you've been and what you've seen. This week-long journey will teach globetrotters what you should know before you go and how to translate what you've seen onto paper. The session will look at how to generate story ideas, help participants develop their writing skills, and teach aspiring travel writers how to get their work published by writing pitch letters to editors. Whether your travel story is about far-flung destinations or the multi-faceted beauty of the Okanagan, this is where it all begins.
Bon voyage!
Total Cost: $252.00
Location: FIPKE Building 138
Blogging
Saturday July 31 9 am – 1 pm
What started out as a simple method for keeping an online diary or journal has become arguably the hottest form of communication and expression of the day. Blogs are micro-websites that are typically maintained and updated by an individual. While many still function as personal diaries, a growing number provide commentary or news on a particular subject. This hands-on workshop helps you get started on your own blog, whether it's merely a place to record your daily thoughts or a venue to share your ideas or opinions on the world today. Learn the basics: deciding what to write about; setting up a blog, step-by-step; using templates; uploading text, photos, video, and audio; and using various blog tools.
Total Cost: $67.20
Location: FIPKE Building 138
I currently have work at Gallery Vertigo, Vernon; Summerland Art Gallery; New Moon Gallery in West Kelowna; Wine Valley Accents Gallery, Summerland and a piece on the way to the Kamloops Art Gallery show.
I have moved my studio home from the Rotary Centre. Contact me to visit my new studio and view art work.
Cherie Hanson
http://www.cheriehanson.com/
http://www.talentdatabase.com/
http://www.facebook.com/cherie.hanson1