The thing about summer is I always wait for it during all the long, gray preceding months and then one day while I am bending over the spring flowers, putting in new seeds and weeding the snake like vines slithering between the strawberries, it hits.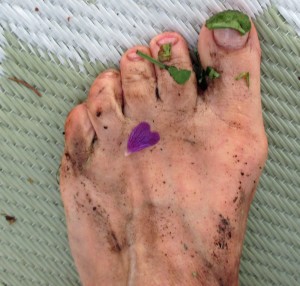 Living in the Okanagan means that it hits at 38 degrees celsius. Living in the Okanagan means it explodes through the windows after days of over cast semi-light and flirtatious temperatures. "Hi, there," the day says, with its 20 degrees followed by a manic wind storm, bolting off the sky with dark clouds and monsoons.
It toys and coys and ploys with us, the weather. And then it blasts us stupid. It was 42 on my deck today. I spent most of it with my face turned side ways on my bed, dog sweating from my tongue. I think I either slept or hallucinated for a good two hours. There is an entirely separate brain wave patterning for that heat zapped coma.
Turning the fan on is just an annoyance because that entails readjusting the stream over several hours.
The first night of heat I did not get to sleep until 3 am. The fan was always off target. It was too high and passed innocuously over my bed. Then it was cooling the space under my bed doing nothing more than making aesthetic choreographies with dust motes.
My friend and I decided to go for a walk at 5 pm because surely by all that is rational it would have cooled down by then. The cement buildings and sidewalks were just beginning to off gas stored up heat. It was rather like being dropped onto an Urban barbeque. I turned to her as she said, "Maybe we could just walk up a few blocks to a coffee shop?" Her forehead was a glistening water fall of sweat. Her eyes looked a bit dazed and she was leaning to the right away from the building's blast as she walked.
The day that I decide I can't take it any more is when I turn on the Paddle Wheel sound of the wall shaker air conditioner. The room throbs a bit but if I turn my body just right, a cool stream of air blows the sweat off of me into the room somewhere. That is a good feeling. It is the season I have so longed for.