Life for me has been such an experience of making progress, lurching forward and then falling back into old habits of thinking and action. Trying to be patient with the process is like everything else: Sometimes quite easy and at other times just a condemnation to some caves of Hell volcanic spewing in a limitless black pit.
Today, it was cooler which always causes a rise in my optimism. When it is 30 + Celsius I am like a Newfoundland dog locked in a room with no AC. I become dispirited, lacking the urge to run. I can push my self for a while in the morning and then I am just laid flat sweating out of the side of my face.
Always, my mind wants me to prove that I have been working toward my goals. Not one goal, six goals or nine goals. Too much, too fast gives me a high.
It is cooler today and so I can feel that there is something possible between the two walls of night. I awake and my thoughts turn to my goals again.
And then, and then comes the questioning: What is it that I am not asking?

Like a small bore drill, what repetitions of digging into the hard wood knot of my life are going on? I want to bite into something. I want to see something become easy and reward me for the tenacity of holding on. I want to sink into this new place of keeping a grip, of holding out.
And so I ask: What is it that I am not asking? What is it that I am not seeing?
But, as always, as I walk my guests to their car, it is the mundane that calls me. It is the next thing that engages my taking action. I stand bare foot, bare faced in the garden and pull out weeds that have grown in the garden bed. I load the dishwasher. I strip the bed and begin the laundry.
I turn my mind away from the grandiose promises I have made to myself. Soothingly, I murmur, "Patience. Go back to intention, woman."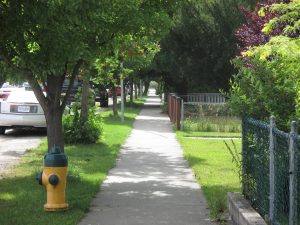 And as I piled up the weeds along the walk way, I pile up the yearning and the frustrations and the sense of being outside. I rip out the old stories of not deserving, of being somehow inherently wrong. I tear out the old, habitual feelings about who I am as I move through the world.
I am right here, standing with slightly earth colored bare feet on the ground. And this now, this now is who I am. The questions, ultimately, are irrelevant. The day is cool. Time will pass. And each breath fills me up. I trust that I am growing, that what I cannot see is moving toward me. The questions, ultimately, are irrelevant.