Today Cody Tree Service showed up to prune my maple tree. It is a huge, gorgeous tree that dances and sings in the wind. Much of my time at night is spent in a bedroom that is about ten feet from the swirling branches. The two men who were working on the tree joked, laughed, teased one another the entire time they were up in it. The one from New Zealand said, "It is like being a kid. You know when you were young and just climbed a tree and played on a sunny day."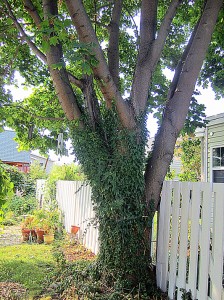 They worked rapidly, cleaned up without leaving a trace; however, the happiness they brought was left behind. They have created a safe place to be as they swing precariously from branch to branch. It is in the relationship between them. While I don't "get" the comaraderie which comes when two men poke fun at one another, I do understand that it is a sign of affection. Women don't work that way. If you told a woman she should eat crock meat because it is low fat, it would be pretty much over.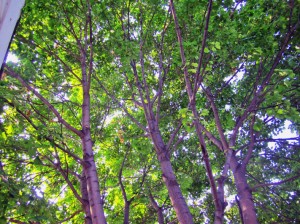 Last night, two other poets and myself held a poetry reading at Pulp Fiction Coffee House which is a treasure. Max, the owner, took me through the amazing rooms filled with a lifetime of his collecting impulse. He has purchased books, posters, china figures from the 40's and 50's from around the world. It is not plastic. It is not mass production. Each of the pieces is strange, exotic and unusual. Like us: Jane Eamon, Rawle James and me. We are perfect in that space.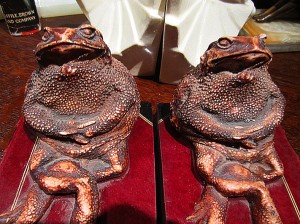 Each of us has spent a lifetime working on what we are meant to be and without effort, without intention we are all unusual. But different. We are so different from one another that it is a delight to all of us.
We are hoping to build something at Pulp Fiction for ourselves. We don't know where it is going yet, but we felt it last night.
This summer when I attended the Naropa University Jack Kerouac School of Disembodied Poeics I was blow out of my little hidey hole of comfort.
It was being in the presence of Thurston Moore, Anne Waldman, Amiri Baraka, Tracy Morris, Laurie Anderson, I learned that instead of waiting for the stork to deliver the baby of opportunity, a person has to just make it happen. Amiri admonished us to speak out, to read on street corners, to witness. While I was viewing You Tube videos about the Beat Poets I was impressed with one of the poets who said he went to macho bars and stood on the pool table to read. He either got "beat up or got $50. Most of the time I got $50."
My issue of safety keeps resurfacing. How do I wear the corset of constraints, play small to guarantee a secure existence when it drives me insane. My soul cries out to stand on a stage, to say what I have to say about early abuse; about being an intellectual in a sleeping world; about the damage I see to the fragile ones. My soul cries out to witness for those who cannot protect themselves by my giving a voice to that broken life.
I love the Buddhist practice that I read about lately called, "FUCK IT."
So I continue to do weights frequently to build a stronger body; I continue to write my poetry and blogs. I post my videos of my reading of poetry on You Tube.
http://www.youtube.com/watch?v=4YzBo-PAjmw&list=UU1sbb545hr0EwWCwEsntUNA&index=2&feature=plcp

And when I want to censor myself and say, "No. Don't talk about it," I know this is the script from my childhood. When my body was bruised and my spirit was damaged I was kept home so no one would see. When a child's life is damaged, he or she learns to close the mouth and pretend.
Our society is damaged and its spirit is broken. We are encouraged to buy plastic copies of objects. We are bringing plastic, manufactured food home. We use our plastic cards to trance ourselves out of depression. And our faces are plastic objects which can be cut into to create a mask.
But I met people this week that are living full out. Two young men hung from my Maple Tree being outrageously silly. A man with a dream has opened a quirky treasure trove. And two other people stood up with me to read poetry.
Sometimes you just have to dance and say ,"Fuck it. This is who I am."
Here is a great blog about the history of Naropa:
http://www.dailycamera.com/news/boulder/ci_20873629/poets-authors-gather-naropas-summer-writing-program