On an overcast day which was neither here nor there, not yet Winter but was sending all the signals to shut down, retreat, go inward, deal with IT, I went to Chapters and picked up a Buddha dharma magazine.
Within a few minutes the sounds around me muted and then disappeared. My focus on myself as "lost", "disappointing", "lacking something" became blurred.
I was in the messages that I was experiencing. The mind fog lifted and I could see sign posts.
Geoffrey Shugen Arnold's article "In Accordance with All Time," reminded me what I had dropped on the floor, lost track of, been distracted away from.
When I was 17 I stumbled upon Henri Bergson in the Old Main Library in Bellingham. I was alone in the vast reading room with the summer light coming in and I felt myself opening to the shift in recognition of time. There are certain reading experiences that are more like a download. And Henri Bergson's concept of duration gave me the distinct feeling of coming home. Time is a construct.
In Arnold's article that I now held in my hands I read, "Time seems by nature to be dualistic, a witnessed measure of something passing. What is time without a witness?"
Arnold reminds us that:
Our presence wherever we are is fully and utterly in accord with past causes. We didn't just suddenly get here by ourselves. We should reflect on the multitudes of past actions, just in this one brief flicker of a lifetime, that brought us to this moment. …. We are each the recipient of innumerable currents of life – through the lives of others- streaming into and influencing our own lives.
As I sat in Chapters I thought of the energy field rivers that had flowed into my life… my genetic heritage; the stories of my ancestors; the influences of past mentors; the large stranger woman who held my cut, bleeding leg together and helped me limp home; the teacher that saw my pain and let me hang out in her classroom instead of being beaten on the school ground; the writers and intellectuals that had spoken to me and "changed" my mind. And I thought of those who I cannot even recall who have fed into my stream from past lives, past associations, unremembered exchanges.
The author asks us to have faith. To understand that past influences are not always perceived gives us optimism. He asks: "Is there another way of holding something that we do not know yet to be true." If we are not capable of being cognizant of the past, how can be project with surety the future.
Knowing that we are not infallible in our understand, in our perception, in our manner of connecting to what we want to call truth, opens up the possibilities. It is in this open space that faith lives.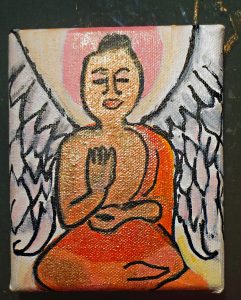 I thought of the Buddhist begging bowl. I thought of the practice of having an empty bowl sitting in the entry way of the house.
We are empty vessels open to receiving. Staying with the question: "Who am I now?" allows for growth, a bigger understanding, and greater gifts coming in.
To know I do not know what formed me, who formed me, where I stand in the flux of time allows faith to be my focus. Not the kind of ten commandment faith. A more complex sense that I am both in time and changing time; that I was both formed and am formless.
As I sat in Chapters, I felt a burst of joy. The room lit up around me. Who ever I am.
I felt 17 again.