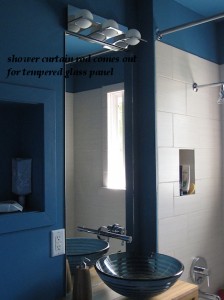 Cherie and Cameron have returned from the Disparate Voices show in Vienna, Austria in May. In three weeks they re-landscaped the backyard, painted the kitchen, totally gutted (including removing the floor boards and subfloor) the bathroom and rebuilt it including new plumbing.
Cameron is now a bonded contractor with his certified safety seal. He received 98% on the exam which is one of the toughest in the world.
He still wants to know what he missed.
Cameron's Summer gigs:
Thursday, July 9th Parks Alive at KLO Campus of Okanagan College. 7 pm until 8. Free
Friday, Saturday, July 10th and July 11th, Gray Monk Winery, Lake Country. 6-9 pm. Open to the public.
Saturday, July 18th, Peachland Barefoot Music Festival, 30 minute set between 4-7pm. Free
Saturday, July 25th, Sunshine Cabaret, Penticton, 7-9 pm
Friday, Saturday, August 21, 22, Gray Monk Winery, Lake Country, 6-9. Open to the public.
Saturday, August 29, Dirty Laundry Winery, Summerland, 1-4 pm. Open to the public.
Cherie's gigs:
Art Donations to Penticton Art Gallery, Kamloops Art Gallery, Gallery Vertigo for auction.
Gallery Vertigo Auction is August 22nd, 8 pm.
Canadian Beige mixed media sold at the Rotary's annual Lobster dinner.
Raw Whispers, Okanagan Erotic Art Show, Woodside Gallery
Bean Scene North, Elemental, August 1 to 30th, large mixed media geometrics
Art Walk, September 12th and 13th, Lake Country
Teaching:
1. The Outdoor Poet:           July 18       9 am – 2 pm
2.Digital Photographic Art:     July 25       9 am – 2 pm
UBC Okanagan Continuing Studies
www.ubc.ca/okanagan/continuingstudies
Email: ccs.ubco@ubc.ca
Tel: (250) 807-9981
3. August 16th, 1-3, Handmade books and cards, Gallery Vertigo information,
please call Judith @ (250)503-2297
judithjurica@shaw.ca or info@galleryvertigo.com
To contact Cameron for contracting, repair, construction or for guitar or bass: phone 250-718-0369
To contact Cherie for a viewing of her latest works, classes or private commissions: phone 250-763-4269