This last month there have been so many lessons learned. When Pay Pal made a deposit to my account twice and then had to remove a payment, I flipped the anxiety switch off. Like a current of negative electricity that threatened to run through my mind, the story started to play. Flip the switch.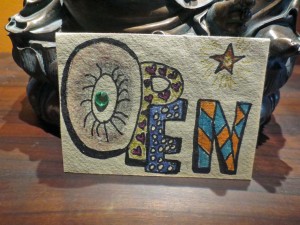 My thoughts immediately went to a statement which I had read in a library book, Zen and the Art of Falling in Love by Dr. Brenda Shoshanna.
She asked the question, "What is the host and what is the guest." It was simply put. It got through to me. Is a feeling of being at home, loved, supported and respected the host in my house of emotions? Or is the sense of lack, scarcity, vulnerability the host? Are moments of sorrow, grief, anger, numbness the elements that take up most of my mental floor space? Or do these emotions just visit for a while to a place that is more fulsome and joyous?
So $600 that I had not expected to flow out of my account would leave. First, I said to myself, "That was never your money. You are glad to pay back that which is not yours." Secondly, I went into my practice of asking, "What are you supposed to learn?"
Going to that place lead me to understand more fully how my relationship with money is less than adult. Do I know how much is in my account as if I were an adult? Am I anticipating payments that must come out such as my house insurance which I had "forgotten" about?
So much of managing my money has been about deprivation because that is what I have become an expert at living. My parents worked four jobs yet when we went shopping my mother would visit every store on both sides of the Columbia river to see what items were cheapest. When she died she still had every receipt for each and every item she had purchased since 1960.
I was in graduate school for an extended period of time and lived with no heat and little money. My way of living has always been as a poor student. With over 2,000 books, I moved from one boarding house to another. The thrift stores provided me with clothing and household items. Each time my life fell apart it cost me thousands of dollars and I had to begin again.
So being cold, underfed and wearing thrift clothing became a sign of competence. It meant I could live within the constraints of my pay check. But this month, I was once again directed in a more powerful mind set. What if you took your assets and managed them more mindfully to allow plenty to flow in?
I went to the bank and sat down with the investment banker. I was reassured that my understanding of the world economy was accurate. I do have two years before inflation will begin. I have two years to pay down my "reverse dowry" line of credit obligation taken out to buy my freedom.
I felt actual fear as I took the money out of the self directed account to allow the bank to manage it. But the jar of coins under the bed attitude was not serving me. The wrap up in a blanket and keep the lights off mentality was not serving me.
It is against my very cautious nature to go out and buy expensive items just to feel powerful. Today, I replaced the stove element on the second hand simple appliance all by myself. It cost $37 and it worked. But I have the heat up and bought some lovely food items on sale.
It is walking that territory between fear and delusion that is the trick.
I am so proud of myself for the head way (and don't you just love that word!) that I have made. For the first time since my divorce, I have begun to eat breakfast sitting at the breakfast table. I went through the double financial lessons of house insurance payment and having to pay back $600 without drama. It was a lesson and I took the homework with me to the bank. I called a handy woman to repair the tiles that have not worked properly in the bathroom.
Only quietly, like a whisper down a well, was I hearing the anxious beasty voice telling me I would shrivel and die dehydrated and starved. And as I was watching my mind, I could see that I did not have what I call "push back" on the ego voice. I just left it whimpering in the well.
The other wonderful awakening has come through using the tests for the seeds of intention that I found in the book E2. The first test is to ask the universe for an unexpected/unusual gift. The test was for 48 hours. I noticed my negative, ego voice growing louder and louder. "It is 40 hours now and nothing." "It is 42 hours now and nothing."
At 46 hours a friend came to my house with five CD's some by Liquid Mind. I had heard of the artist and thought I wanted to check him out. And now I am standing with his works in my hand. People bought me coffee, Three polka dotted zipper bags showed up in my mail. An old friend left me with a big bottle of Lavender oil she had crafted from her garden.
So what my lessons have all pointed to this month is a sense that I am using the skills I have worked toward. I have been able in the moment of an event to shut off the negative current, to get down into the structure of the thing and ask, "What am I supposed to learn?"
The biggest realization for me has been that it is not about solving problems. It is about developing technique. I was on the tennis team in high school and spent hours hitting balls that were coming at me fast. Some I had to hit back handed. Some I had to smoothly connect with on the forehand side. Some bounced wildly and the ability to calm the ball down with the surface of my racquet and then send it with intention was necessary.
I understand now that that is exactly what is happening. Balls are coming at you. Lessons are coming at you. They will not stop. Hitting one does not mean there will never be another. It is a deluded mind that thinks, "I will solve this problem in order to solve all problems forever."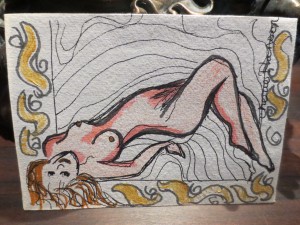 The light came on for me. It is about the skill. Am I standing with my feet balanced holding the centre? Are my hands relaxed? Is my mind calm and alert? As things come toward me, there is no place for negative emotion. As I watch myself, I understand that over time, with intention and patience I am building skills.
How did I reach this place where peace, joy and gratitude are the hosts and lower energies are the guest? It is because of my coaches, because of those who have taught me in books, on you tube. It is because of my friends who have moved forward to live more authentically and fully. It is because of my spirits, angels, guides surrounding me.
I eat at the table. I repair those things which need to be repaired. I watch my financial situation with a more alert eye. I am not a Do It Yourselfer. I have been taught with loving wisdom. I am growing to trust myself and others more fully for the first time in my life. Now where is that screw driver?