The day began beautifully. Birds were friendly today without the frantic protective snarl the mothers sometimes give the circling crows. It was gentle, the music of the birds.
I mowed the lawn, weeded, cleaned up the back alleyway and found some more stones to extend the patio outside my studio. After that I half heartedly dug a ditch but soon grew bored with that and moved on to install the two sheets of plywood in my shed which is now a studio.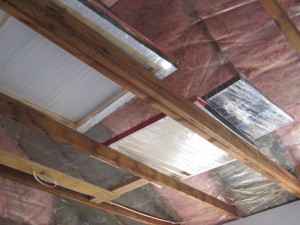 My skills with the saw contradict the name and the crazy cuts and screws shot into the wood trying to hit a stud looked like darts on a board in a very drunken pub.
But they are up and painted.
Afterward I cleaned up the studio, myself, the house and made sticky rice that was sticky. Yeah. The Adzuki beans do not give off a delightful aroma in 85 degree heat but I felt that in for a penny. I would fill the kitchen with steam from several pots cooking.
In the evening, my homestay girl spoke one of the few words of English she seems to know: cheese. So we hopped into the car and went to chapters to look at books. I informed myself about the structure of dragons for a project I am working on. Then the cheese stop.
Last night when I went to Extra Foods by myself, I dressed up as I am wont to do and got a few items.
A man standing at the service counter who looked not insane, had all of his teeth and wasn't shaking with palsy stepped forward and said, "You are a very handsome woman. Oh that didn't come out right. I mean you are a very attractive woman." I thanked him and after I was back in the car I realized I hadn't taken the opportunity to practice flirting.
I have never flirted, being a straight forward, straight-laced leo raised in a Protestant home. It is on my list of things to learn: flirting, French, the GPS, how to hook up my printer. Not necessarily in that order.
So today was a full day, a satisfying day in which I am one day closer to having the studio set up, the last of the junk out of the yard, the car packed and off we go.