Spiritual blindness clouds my vision at times. I keep returning to the programmed scripts of scarcity, competition, victimhood and this flat paper doll world construct where in we are standing in our underwear waiting for some outside source to dress us up. The giant hand will cover the shame of who we are without acceptable stylish cover. The controlling hand will give us the fabric of status. We will be anointed by validation. We will be absolved of our denuded humanity by the powerful outside authority.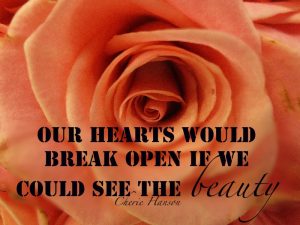 The distance between where we believe we can go and where we can get to belief is always something I am aware of. Like someone walking in a mirage desert projecting in a landscape of oasis, my programmed reality is at odds with that which my spirit knows to be true.
The big work for me is to release the struggle. How do I go from what I am now to what I know myself capable of being? Where is the map? What are the instructions? Am I supposed to read it by the full of the moon or with a candle held behind it so I can see the tracings of the journey?
Like some lost, skitterish animal, meditation finds me stuck in a gully, or trapped under loose scree. Meditation brings me back to the container of now, of breath, of body, of allowing all of the fear-pain-anger to just exist in now.
What my practice has done for me is to allow me to push the "Start Over" button. I have also found that sitting silence or chanting until my tears fall without check allows me to be loving to myself. I return to my intention to stay in the experience of growth.
In the past, I was in a self created classroom not unlike the one my mother described in the 1930's. When she made a mistake, the ruler marks raised welts on her hands. When she did not learn at a rate or at a predetermined level of performance, she had to sit on a tall stool wearing a tall hat.
In the past, I was in the classroom of perfectionism and I was brutal and unforgiving of myself.
Meditation allows me to push the re-set intention button. I start again. I view myself with loving kindness. Because I have come to understand that being human is basically a bitch, I know to be kind. Because I have come to appreciate that being born into a body IS the hell we all fear mistakenly fear in the afterlife, I have come to be more compassionate to all of us.
One time when I was in Floatspace, I saw the souls as lights. They were in the waiting room between lives and each one chose to come down the shoot of energy into his or her mother. Each one made the commitment to come to earth and agree to be born. As I floated in the salt water, I saw a hundred thousand lights travelling to earth to agree to enter a body. They agreed to suffer pain, face death, walk in the mass delusion of whatever their culture had constructed because they wanted to learn.
It takes my breath away, the bravery of souls. We are here to learn. I am here to learn. And it is through meditation that I can keep my focus and like an adventurer ask the question: What is the real map?
I get lost. I stumble. I forget to be grateful. But I know that this life is where it all happens. It is where we truly learn to love.